Today my family and I made the official check presentation, for the AVGN Auction, at Shriners Hospitals for Children. They are very grateful to the fans! The doctor pictured is the one who treated my daughter!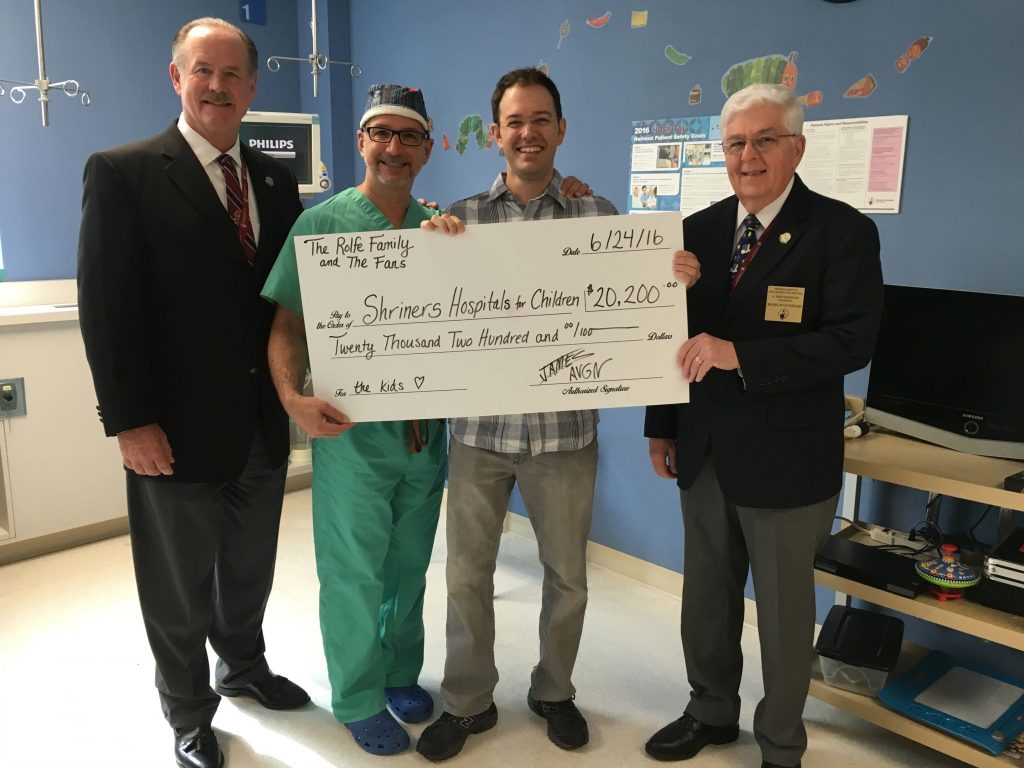 This is the amount that's been tallied up so far, but there are still remaining items being auctioned. You can bid online. It ends on June 28, 6pm EST, with a live auction at Sellersville. See all links for items below.
SOME OF THESE ITEMS ARE HUGE. ONLY BID IF YOU ARE ABLE TO PAY SHIPPING OR PICK UP IN PERSON.
18. The Nerd Mobile miniature remains
Two miniature Nerd vans (What's left of them), used for special effects shots in AVGN Movie. One has no wheels or under-side, and is falling apart. The other was blown up in a pyrotechnics shot. One side is melted beyond recognition while the other side still resembles a van. Good for prosperity only. Bid here
22. Prairie Dog tunnel
From AVGN Movie, as a tribute to the hilarious gofer from Caddyshack. Used when describing the dangers of trying to get near Area 51 "even a burrowing prairie dog would get smoked out by nerve gas." Included is the home-made tunnel, and "prairie dog" from this brief, but memorable shot. Bid here
23. Area 51 "E.T. Room" buildings
Miniatures used in AVGN Movie, for a scene which imitates the infamous E.T. game. A major plot point, involving a conspiracy theory on what the E.T. game was really based on, and the real reason why it was buried. Bid here
61. Atari Landfill
From AVGN Movie, when all the E.T. games rise from the pit, exposing this massive crater, actually just a set made from styrofoam and wood. This is a large bulky object, waiting to be displayed somewhere. You just need some more sand, and tiny fake trees, and it could look like new again. There is a small hole melted at the bottom of the crater, from pyrotechnics (the scene where the tank miniatures falls into the pit and blows up). Bid here
63. Nerd's UFO
Donated back into auction by a generous bidder who already paid.
In AVGN Movie, the Nerd fakes his own home-made spaceship to sail over the fence of Area 51. This ship was constructed from foam and various materials. The top dome comes off easily. As seen in the film, I hide inside it, but in reality, I was positioned through a hole in the bottom. Only my upper torso was inside. Afterwards, we sent it sliding down the main slope of the famous Vasquez Rocks, seen in Star Trek and tons of films and TV shows. It suffered a major beating. Pieces are falling off everywhere. You might be able to refurbish it. Bid here
64. Tank Chair
General Dark Onward's tank chair from AVGN Movie. Ever want to sit in something so badass? It does not actually drive. To create the illusion that it was functional, the actor had to walk it with his feet, and the treads were wound up and pulled by rope so they would move. It has gone through a lot on the movie set. It's been shipped from Los Angeles to Philadelphia before, and has taken a beating. Right now, it sits safely in heavy wrap/ packing. Mainly the treads you would need to repair. Otherwise, it appears just like it did in the film. NOTE: It is extremely heavy. It would take a few people and a ramp to load it onto a vehicle. Bid here
All proceeds go to Shriners Hospitals for Children. See the original post about the auction here.