AVGN DVD F.A.Q.

THE DVD SET IS OUT! Buy it on ScrewAttack.com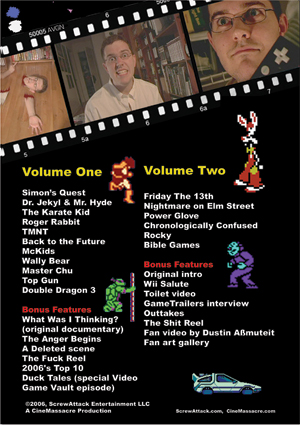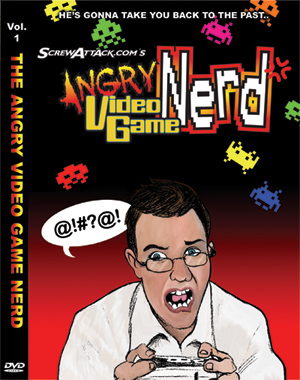 The price is $18.98. Within the U.S., there's a flat shipping rate of $7.00. Outside the U.S, the shipping rate can vary. Keep in mind, the DVDs are packed with 4 hours of content.
THE BAD NEWS - The movie clips used in the Back to the Future and Rocky reviews have been removed, as well as any other videos that had copyrighted content, including music. I know that may be disappointing, but it would be our ass getting sued. Not yours. The internet is one thing, but when you're selling it, it can be a different story. Just wanted to end that debate before it starts.
THE GOOD NEWS - To make up for anything that I removed from the videos, I put new stuff in! The Wally bear and Rocky videos have new endings! The Friday the 13th and Nightmare on Elm Street videos have a new original soundtrack by Justin Sobers (Zalai.com) and it sounds much better!
WHAT'S ON THE DVD's
DISC 1
Castlevania 2: Simon's Quest
Dr. Jekyl and Mr. Hyde
Karate Kid
Roger Rabbit
TMNT
Back to the Future
McKids
Wally Bear
Master Chu
Top Gun
Double Dragon 3
BONUS FEATURES
The full 2 minute intro
Duck Tales (Video Game Vault)
Top 10 Nerd Moments (2006)
The Fuck Reel (everytime I said "Fuck" up til Bible Games)
A Deleted Scene from Chronologically Confused
The Anger Begins
What Was I Thinking? (The un-released 13 minute AVGN documentary)
* NOTE * I'd like people to know that the documentary is from January 2007, so comments expressed DO NOT reflect any current events.

DISC 2
Friday the 13th
Nightmare on Elm Street
Power Glove
Chronologically Confused
Rocky
Bible Games
BONUS FEATURES
The original ANN intro
The Toilet video
The GT interview
Wii Salute (History of Video Game Wars)
Outtakes (about 14 minutes)
The Shit Reel (Everytime I say "Shit" up til Bible Games)
Music VIdeo Tribute by Dustin Aßmuteit
A Fan Art Gallery
NO NEW VIDEOS? - Many people are wondering why none of the videos from 2007 are included. Well, that's already 3 hours, 15 minutes worth of content right there. That INCLUDES BOTH DISCS TOTAL, COUNTING THE BONUS FEATURES. Yes, we are planning to release the new videos on DVD in the near future.
NEWS | VIDEOS | MYSPACE | YOUTUBE | LINKS | GALLERY | FAQ | MAIN | FORUM