I attended Comic Con 2011, and reported on the events with Spike.com, for the third year in a row.
My first update has me talking about arriving at Comic Con and not making it into my first panel, due to Comic Con's traffic control randomly blocking me from two different directions. It didn't help that there's no consistency as to when you're allowed to get into the building. People were jammed up against the entrances and weren't let inside until 9:30am, only a half hour before the Deadliest Warrior panel started, so it was not enough time for me to physically get to the panel. (People who DIDN'T have badges yet were getting into the building at 9am. Go figure.) A disappointing first update.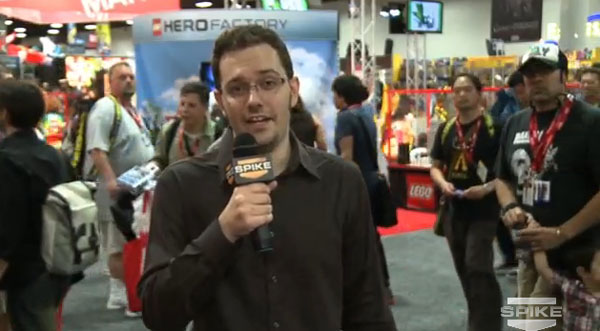 Since Day 1 began with a shaky start, I went to the giant dealer room and headed off to the comics section, the least crowded part of "Comic"-Con. One of the cutaways they used in the video I find hilarious, because actually yes, I've seen the movie "The Stuff."  (The part shown on the poster is its best moment.)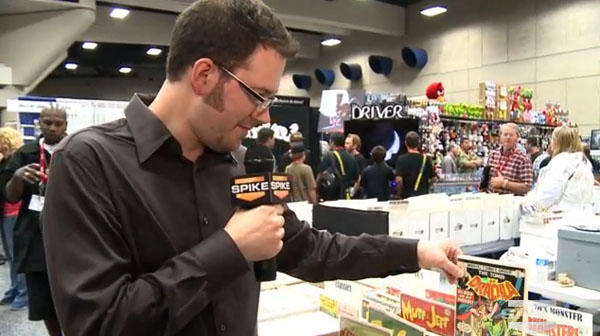 One part that did not make it into the above video was when I talked about meeting the guys from Hollywood Treasure, definitely one of my favorite current shows on TV. They find, authenticate, and auction movie props. They brought many of the Back to the Future props with them, including one of the DeLoreans from Part 3. (Not to be confused with the replica DeLorean which was being shown somewhere else on the Comic Con floor.)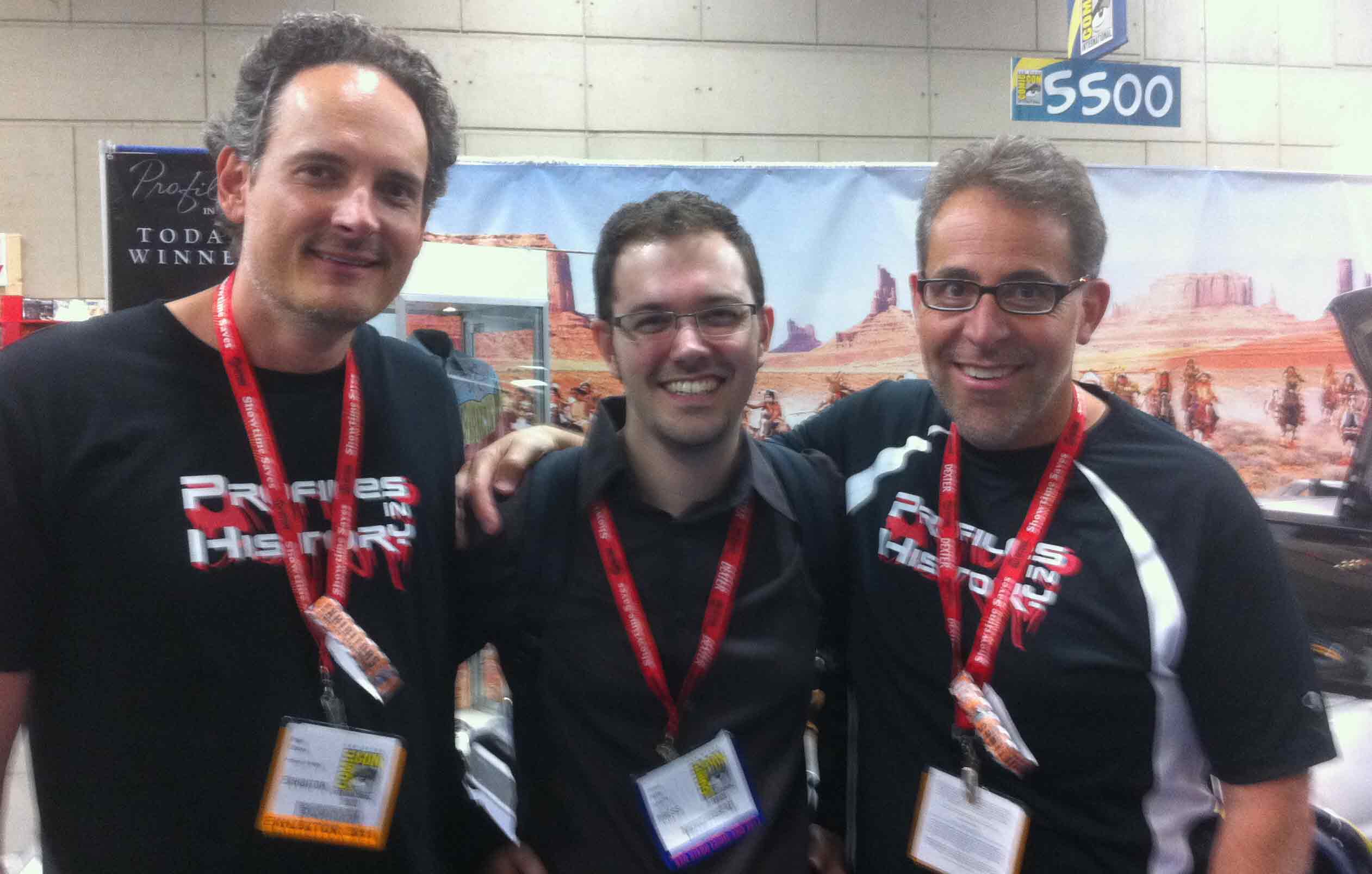 This next update was shot during Day 2, where I talk about what happened the night before. I saw the new Beavis and Butthead clips where they make fun of the current reality shows on MTV.
Best of all, I got into a VIP party and met one of my favorite directors, Robert Rodriguez. His book Rebel Without a Crew encouraged me to pursue filmmaking, when I read it at age 15. I learned from him that you can do it outside of Hollywood. You can do it your own way. That's the Cinemassacre style, and I owe a lot from him. He told me he's writing two more books, which sound great!
This next update is all about the panels I saw on Day 2, a very successful day! I saw the "Captains" panel with William Shatner, Avery Brooks, and Scott Bakula, moderated by Kevin Smith. The highlight was when Shatner got up and screamed "KHAAAAAAN!" with the crowd and held it for a long long time! I shot it on my B-roll camera, but unfortunately, it was not used in the video.
Next I saw the Legendary Pictures panel, hoping to hear something about the upcoming Godzilla film. Unfortunately, not a single word was spoken about it. Instead, Guillermo "fucking" Del Toro talked about a new monster movie he's making called Pacific Rim. He curses a lot. Sounds like my kind of guy. Next was Seventh Son with Jeff Bridges and Paradise Lost with Bradley Cooper. These films are in their early stages, so only a few images were available, mostly conceptual stuff.
Then they showed a trailer for Mass Effect 3, right after they talked about movie adaptations of video games. Although the trailer was a video game. ??? I was very confused, and I ranted on how video game trailers never show the gameplay, they only show cut scenes and advertise it the same way as if it were a movie trailer. I hate that! Unfortunately, this rant was cut from the video.
Then I talk about how Conan O'Brien crashed the Green Lantern panel! It was AWESOME! Funniest panel I've ever seen. Every question, Conan followed with a lightning fast and hilarious response, he was in top gear, even more hyper than on his show. Amazing.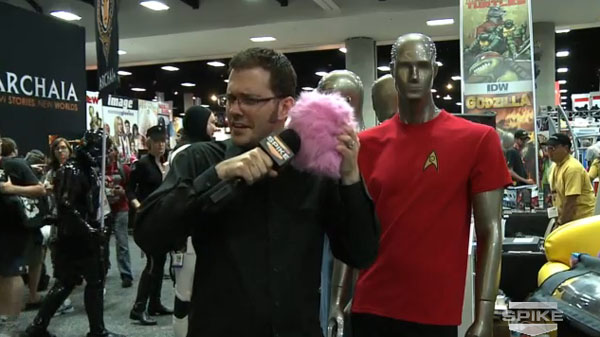 Next, I went into the Rifftrax panel. If you're not familiar with Rifftrax, they're the same guys from MST3K. They make hilarious audio commentary tracks to current day and old movies. Coming up next, they'll be riffing on Jack the Giant Killer, a fantasy adventure film from 1962 with stop motion effects that are not as good as Ray Harryhausen's effects, but still very enjoyable to watch. I imagine it will make great material for Rifftrax, nevertheless.
Also, as noted in the video, the rooms at Comic Con at this point were beginning to reek of sweat. They should start giving out deodorant.
Then I saw the premiere of Batman: Year One, the new animated film based on the Frank Miller comic. If you liked the comic, you will surely like the film. It sticks very close. Thumbs up.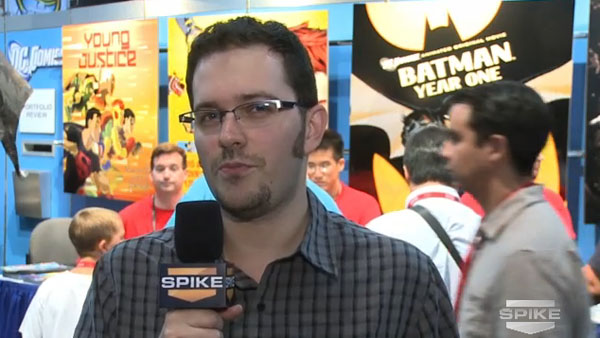 In my final recap I talk about the positives and negatives of Comic Con. The one thing I failed to articulate in the video was that the security guards don't let people sit on the floor to eat, and you're often told not to stand around and "loiter" either, so you have to keep moving.